Almost Honey Heaven: A Buzz-worthy Tasting Event
May 6
@
11:00 am
–
3:00 pm
EDT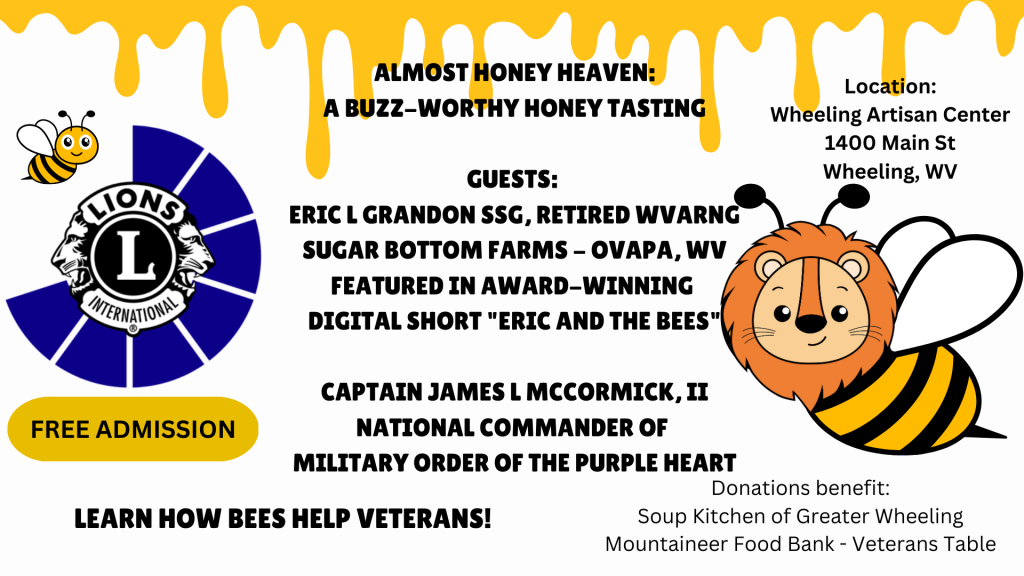 The Ohio County Virtual Lions Club is pleased to announce Almost "Honey" Heaven: A Buzz Worthy Event at the Wheeling Artisan Center, 1400 Main Street! This unique FREE event will be held on May 6th and will feature a variety of honey tastings from Sugar Bottom Farms in Ovapa, West Virginia. All attendees will have the opportunity to sample the finest honeys and learn about the beekeeping process from experienced beekeepers.
In 2014, Sugar Bottom Farm started just outside the little town of Ovapa, West Virginia with two beehives and first-generation farmer, Eric Grandon. The farm began as a way to combat stressors associated with Eric's war deployments during his 20-year career with the US Army. They started producing molasses as part of the Veterans and Warrior to Agriculture program in WV. As the farm developed, they added honeybees, produce, and layers to their line to help diversify their products. Since beginning, Sugar Bottom Farm was voted Conservation Farm of the year for the Elk Conservation District. Eric has also become a certified beekeeping instructor for the WV Department of Agriculture's Veterans and Warriors to Agriculture program. A digital short film, "Eric and the Bees", highlights how Eric's passion of beekeeping helps veterans, including himself, and has won numerous film awards and can be found on YouTube.
Sugar Bottom Farm is proud to be certified by WV Grown and Homegrown by Heroes and members of West Virginia Veterans and Warriors to Agriculture and Farmer Veteran Coalition programs.

At the event, guests will be able to sample different honeys from West Virginia and different floral sources. They will be able to taste the variations in flavor, texture, and sweetness and learn about the unique characteristics of each type of honey. After the tastings, guests will be able to purchase their honey and honey products from the Wheeling Artisan Center Shop and even speak to the beekeepers who made them.
Honey has numerous health benefits! It is a natural source of antioxidants, can boost the immune system, and has anti-inflammatory properties. It can also help relieve allergies, reduce the risk of certain chronic diseases, and even improve digestive health. Additionally, honey can be used as a natural sweetener and is a good replacement for refined sugars.
Just as bees and honey have numerous benefits, so does volunteerism. Our Lions will be on hand to showcase numerous projects that are benefitting children and Ohio County, including our Little Lending Libraries, Bags to Benches Recycling Program, and more! Bees and Lions both contribute positively to the environment, hunger, diabetes, and vision, and through this event will both benefit veterans.
Donations/sponsorships from this event will go to Mountaineer Food Bank – Veterans Table and The Soup Kitchen of Greater Wheeling, who feed people every day throughout the Mountain State, many of which are veterans. We are also honored to have Captain James L McCormick II, National Commander of Military Order of the Purple Heart and Executive Director of Vets for Vet Leadership, to bring awareness and lead discussion on veterans' issues.
A private tasting will be offered Friday evening to event sponsors, and opportunities to sponsor a veteran to attend the private tasting will be available through the Lions. For more information about the event, contact Lion Mary Ann at (304)559-5944 or email ohiocountyvirtuallions@gmail.com. Come out and experience the sweet taste of honey and learn more about the amazing process of beekeeping and the health benefits honey can provide!