Lions Club International is a world leader in the effort to prevent avoidable blindness. Preservation of current vision, early detection, and quick treatment are all important to slow the progression of vision loss. We understand that financial hardships may only be temporary, but time is a factor in sight conservation. We encourage all who have financial constraints to apply, and if you wish to donate your time or money when you circumstances improve, we welcome it to help even more people!
Note: we serve the children of Ohio County, but this is not exclusively for children. Also, because we share the county with other Lions clubs, we may direct your application to a club near your residence first. However, we will consider any application of need sent and work diligently to acquire or connect the resources necessary to help.
Be My Eyes
We connect people with vision with eye exams and glasses locally, but we also connect people with vision globally by being volunteers for the Be My Eyes smartphone app. We encourage others to sign up to be a volunteer; it is a great service to those struggling to see and does not require you to do anything more than take a call from their app occasionally. There's no pressure to accept the call if you get one because the call is sent to numerous volunteers and the first one to answer it will assist. Check it out!
Glasses donations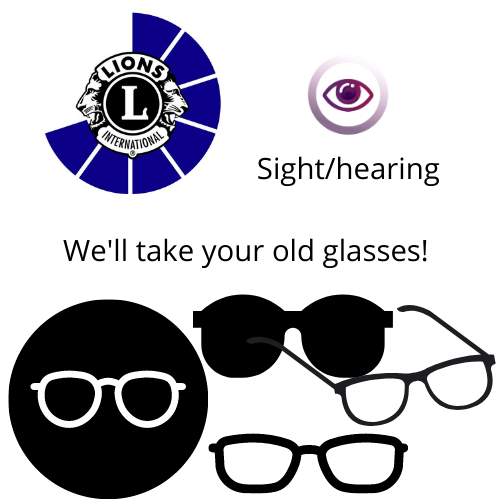 Have old glasses piling up in your junk drawers? Donate them to us! We'll send them away to be recycled/fixed so that someone else can use them. You can drop off your glasses at:
Touch of Amish – National Road, Woodsdale
Just Right Homecare – National Road, Elm Grove
Imperial Teachers Store – Centre Wheeling
Gracie Mae's – Warwood
Kroger Pharmacy – Warwood
Or contact us at ohiocountyvirtuallions@gmail.com or the contact us link at the top of our website for special arrangements.