I love what you do, but I'm not good with technology.  Would your club be a good fit for me?
YES!  Although we use technology to do more, we welcome members at every level of ability, both in terms of technology and physical limitations.  We want people to help how they are able to help, and we acknowledge that every person has something to offer.  More hands and minds allow us to do more!
(We have members that are dedicated to helping bridge the gap for people who are not tech savvy.  Do not be intimidated to join because of technology.  WE WILL HELP YOU!)
I have such little time.  I'm not sure I would contribute much.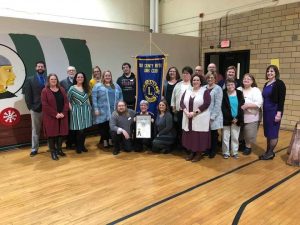 There are so many ways that you can contribute at your pace in your free time.  We have so many projects, so we allow the ability to "cafeteria-style" choose how and where you are able to contribute.  Something as small as sharing our messages on social media and with your colleagues make a huge difference in our collection campaigns and fundraisers!  Don't underestimate the smallest of gestures and the impact it makes for us to serve more!  This club is made with the working individual in mind to allow you to participate as you are able and not feel pressure to attend regular meetings.
How often do you "meet"?
Currently, we are meeting every other month on average.  We try to accomplish most of our "meeting items" between meetings through use of surveys, e-mails, etc.  Meetings are currently using Zoom, so people can log in by computer, tablet, or smartphone OR call-in for audio feed only. Meetings are not mandatory but are highly encouraged to stay connected and informed about the projects/events.  We want people who want to help to not feel stressed about involvement.  We're just happy you want to help!
What are dues?
Dues are $30 every 6 months.  $20 for every additional family member from the same household.  That's only $5/month. These dues primarily pay for liability insurance to allow us to do the projects and meet the needs of the community.  From now until December 31, 2020, we do not have any initiation fee (a savings of $35), so you receive your welcome packet for FREE!   *If finances are an issue but you want to help, contact us!  We are willing to work with you to help.*
What do Lions do?
We'd like to answer this with a question to you – "what are you passionate about?".  We want to take your interests, talents, and passions and put them to use to better our community.   Maybe you enjoy art – and you would be interested in teaching classes as a project for the Lions.   Maybe you are really passionate about the environment, and we have a number of projects that you can jump in and get involved with.  We are the largest service organization in the WORLD, and with that comes a bounty of resources, grants, and networks that allow us to do MORE!  Bring your passion to us, and allow us to improve our community through your passions, skill sets, and creativity.
Additionally, we focus on 5 global causes: sight/hearing, hunger, environment, diabetes, and childhood cancer.  In the US, we also acknowledge the need for helping in the area of addiction and drug prevention.  Lastly, our club is a specialty club focused on benefiting the children of Ohio County; the projects we do directly or indirectly serve the needs of children in Ohio County to hopefully make the brightest future for our area!
I don't live in Ohio County. I doubt I can help. Can I be a member?
Absolutely, you can help (and be a member)!  There are a number of ways that you can still be involved, which is why the virtual club may be a great fit for you.  If you have a desire to help the children of Ohio County through some connection to this area, we are able to use your talents.  You can help us to plan, promote, and even execute many of our online projects and fundraisers.  Our model of club allows you to participate from anywhere in the world in some way!  We have a member who lives in Tennessee, but still has a strong connection to our service area, and where we expect her to almost never be in physical attendance at an event or project, she helps provide information and ideas in the planning process to make us stronger as a club!
My family is very important to me.  Does membership interfere with my family time?
No! Family is super important to us, and we would love for your family to be part of our family!  We have families investing in their community with us through service.  Parents and adult children in our club are working with the next generation to make a better community and world.  We have children as young as 6 working alongside us in our projects. Lions membership makes your family AND our club stronger!   Give us the opportunity to work with your family and instill the next generation of service and volunteerism!
What age do you have to be to join?
18 to be an *official* member, but we have some children who are "Lions in training" that work with us!  The perception that Lions clubs aren't for young people is certainly not true!  Our youngest member is 21, and our average age is 49.  We welcome people of all ages and abilities.  All you need is a passion to help.   
OK, how do I join?
You can fill out a online membership application OR download a membership application at ohiocountyvirtuallions.club/join
Need help? contact us at ohiocountyvirtuallions@gmail.com or (304)370-4902.