Backpack Food Program – "Warwood Food Warriors"
As the pandemic brought food security issues on a magnitude not previously seen in our communities, OCVLC moved into action to help.  Before the pandemic, we had partnered with the Warwood United Methodist Church and local nonprofit Grow Warwood Pride to help raise money and provide volunteer labor to get weekly bags of food to children who aren't getting enough to eat.  These weekend bags, which were designed to supplement the school breakfast and lunch program for students in greater need at home, included:
Two breakfasts
Two lunches
Two dinners
Two snacks
Suggested donations include:
Easy Mac
Cans of soup
Individually-wrapped snacks
Oatmeal
Ramen noodles
Pop tarts
These donations are accepted at ANY of our dropoff locations throughout the county.  Additional pickup and drop off arrangements available upon request.
Give Thanks by Giving Campaign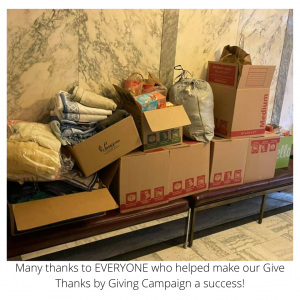 In November, we welcomed our followers to join our members by collecting an item every day throughout the month to provide a family with approximately a month's worth of food to last throughout December so a family had a food secure holiday season.  In total, we received over a dozen FULL boxes of food which were shared with the House of the Carpenter and Youth Services Systems – Wheeling to find good homes for the food.